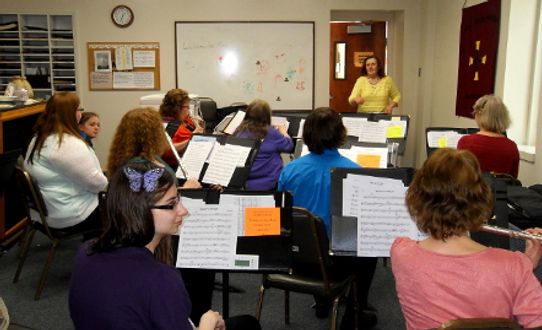 A few weekends ago, I had the pleasure of
performing with the McDaniel Flute Choir at the 11th Annual Flutes on the Brink Festival.

The food was tasty, the people were wonderful, and the musical selections were delightful. Some pieces featured low flutes, others, the piccolo, although every work wove a gorgeous tapestry of sound around the individual choirs.


Each choir took turns performing, and for the grande finale, we all joined together to form one quite sizeable flute choir, playing selections from Judy Nishimura, Jonathan Cohen - the latter of whom is a member of the Flutes on the Brink choir - and various other composers.
All in all the festival was a lovely experience, and one that I would gladly repeat in the future. Thanks in particular to Flutes on the Brink for hosting such a engaging and cheerful event!
---