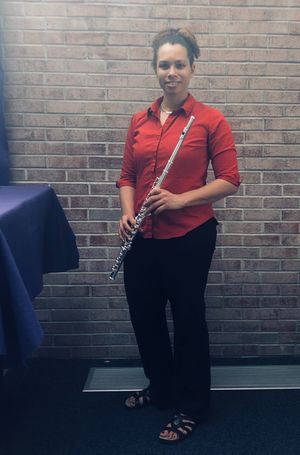 This past weekend I had the pleasure of returning to the 14th Annual Flutes on the Brink Flute Choir Festival with the McDaniel College Flute Choir. Each choir took turns performing, and we all joined together to form one sizeable flute choir for the grande finale, playing selections from Gareth McLearnon, Jonathan Cohen - the latter of whom is a member of the Flutes on the Brink flute choir - and various other composers and arrangers.
Every time that I've attended the festival has been wonderful, and I always look forward to hearing all the neat selections of music ranging from renaissance to modern and everything in-between. Thanks in particular to Flutes on the Brink for hosting such a engaging and cheerful event!
---
The McDaniel College Flute Choir (directed by Dr. Linda Kirkpatrick) performs "I May Be Down, but the Jig Is Up" by internationally acclaimed flute choir composer Jonathan Cohen:
---
The 1st movement is called "Knox's Jig," and is a fun, rollicking romp of a tune that makes it hard not to get up and dance!
The 2nd movement is called "She Walked This Valley, Once," and the slow, delicately played melodies and rich interwoven harmonies lend a melancholy air to the piece that perfectly captures the feeling of missing someone who has been gone a long time.
The 3rd movement is called "Here's Sunshine in Your Eye!" and is an appropriately bright work, spirited and engaging. The piece has many rhythmical challenges that make it both interesting and an absolute joy to play.
We were very blessed to be able to play with the composer himself; you can spot him playing his contrabass flute on the conductor's right.